Newcastle Cast Iron Back
£249.00
Free Delivery with Fire Surrounds
---
The Newcastle is a plain arched insert and is available in a matt black or with a highlighted polished finish (as shown).
This casting can be used with an electric fire, gas fire or solid fuel fire. Our solid fuel kit does come with an ash pan, making cleaning much easier.
The Newcastle casting does not come with a Fire Back, you need to choose this separately from the drop down menu. If you are using the casting with a gas fire then the fibre fire back will increase the fire output by 1kw.
We would always advise that you speak to either a Gas Safe engineer or Hetas engineer before purchasing to ensure that you order the correct parts.
---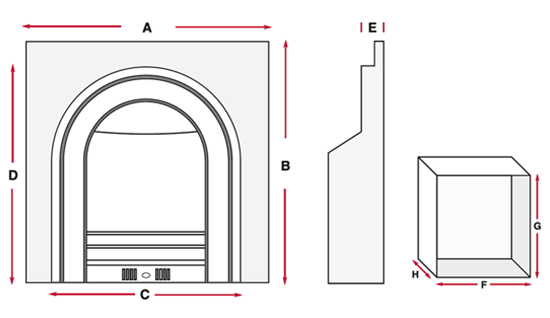 Casting Dimensions
| | |
| --- | --- |
| A | 950 mm |
| B | 950 mm |
| C | 780 mm |
| D | 840 mm |
| E | 76 mm |
| G - Chamber Height | See optional backs |
| F - Chamber Width | See optional backs |
| H - Chamber Depth | See optional backs |
Required Chamber Dimensions
The required chamber size is the minimum opening required to house a casting, excluding the rebate (E).
Hearth Dimensions

| | |
| --- | --- |
| E | 48", 54" or 60" |
| F | 2" |
| G | 15" or 18" |
Boxed or Lipped Hearths

Boxed hearth

Lipped hearth
All granite and Marble hearths come lipped, for an extra charge we can make them boxed.
Veneered hearths come boxed but can be lipped for a small extra charge.
Hearth Footprint
We would always suggest that you take delivery of your hearth before cutting your carpet. The sizes given are for the top of your hearth, the footprint is usually around 0.5" on both sides and front.
Bespoke Sizes
We can alter the size of your hearth, in both width and depth. Please call us for a quotation.

All our fire surrounds can be upgraded to be used with an open fires, Solid Fuel Stoves or Gas HE Fires.
You must follow your manufacturers and Hetas guidelines as we do not make the surrounds fire proof. We are ensuring they won't warp or peel if fitted correctly.
You should always ensure that your installer is registered with Hetas, and always ask your installer for identification; they will be able to produce a HETAS ID card with their registration competence on the reverse.
If you do not have an installer then visit the HETAS website (www.hetas.co.uk) and using their search, you will be able to find an installer in your location.
Please call a Hetas engineer for installation advice.

Our surrounds can be used with any gas fire with an output of 4Kw or less. For greater output select the solid fuel upgrade
Gas fires must be fitted per distances from combustible materials, as specified in your instruction manual. Any HE or glass fronted fire must have the solid fuel upgrade. HE & glass fronted fires can only be used with Granite Hearth and Backs.
If you visit www.gassaferegister.co.uk, you will find a list of engineers in your location.
You must use a Gas Safe Engineer if you are having a gas fire fitted, they can generally fit your entire fire surround and will supply you with a safety certificate.
Please call a Gas Safe engineer for installation advice.

All our surrounds can be used with electric fires; you do not need a qualified electrician as they come fitted with standard plugs.
If you are fitting your fire surround against a wall without a hole, then you need to ensure that you have the correct surround rebate. If you have a chimney, this needs a cowel or to be sealed to stop the fire overheating and becoming noisy.
If you are moving a socket, then you need to use a qualified electrician. Once the work has been carried out, you will receive a Part P certificate from the electrician.
If you are looking for a qualified electrician, then a good website to visit is www.electricalsafetyfirst.org.uk.
Call us if you require help with rebates.