---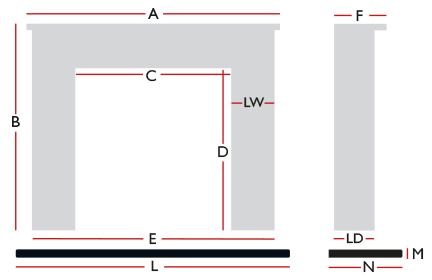 Hearth Dimensions
Rebate: 1 inch removable to 3 inches; click here to find out about rebates.
Measurement 'D': This is always from the bottom of the leg to the corner of the opening.
Product Description
Pictured with a Diamond Multi-Flue gas fire and finished in Olde England White, the grand Wilmslow mantel has a presence in any living room. It's size and clean lines make the Wilmslow fire surround a favourite for the more traditional consumer with a larger living space. Manufactured from high-quality veneer, the surround is available in any of our colour finishes.
This is a Complete Package Deal and includes the following
Wilmsolw Painted Fire Surround
Diamond Multi Flue Gas fire or Resoloution Electric Fire
Black Granite Back Panel.
Black Granite Stone Hearth 54'' x 15''
This package does not include the down lights however they can be purchased if required, please select from the drop down menu.
Non package price based on the individual prices of this fire surround, a Granite Hearth, Granite Back Panel and Diamond Multi-Flue Gas Fire.
This package is available only in the colour swatches shown. If you require a different colour, different fire or would like to take advantage of our Made to Measure Service then please see our standard Wilmslow Fire Surround
All our Granite hearths and Backs are premium quality; we do not sell the lower quality dyed granite.
The surround shown here is in Ole England White.
Range Description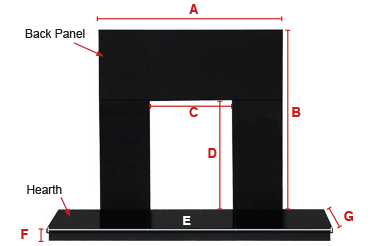 Hearth & Back Dimensions
| | |
| --- | --- |
| A | 37" or 40" |
| B | 37" or 40" |
| C | 16.5" |
| D | 22.5" |
| E | 48", 54" or 60" |
| F | 2" |
| G | 15" or 18" |
Hearth Footprint
We would always suggest that you take delivery of your hearth before cutting your carpet. The sizes given are for the top of your hearth, the footprint is usually around 0.5" on both sides and front.
Bespoke Sizes
We can alter the size of your hearth, in both width and depth. Please call us for a quotation.
Standard Sizes
The standard sizes for hearths are:
| | |
| --- | --- |
| Wide | 48", 54" or 60" |
| Deep | 15" or 18" |
The back panel standard sizes are:
If your require a hearth that is not an option on your chosen fire surround, please order from our Hearth & Backs section.

All our fire surrounds can be upgraded to be used with an open fires, Solid Fuel Stoves or Gas HE Fires.
You must follow your manufacturers and Hetas guidelines as we do not make the surrounds fire proof. We are ensuring they won't warp or peel if fitted correctly.
You should always ensure that your installer is registered with Hetas, and always ask your installer for identification; they will be able to produce a HETAS ID card with their registration competence on the reverse.
If you do not have an installer then visit the HETAS website (www.hetas.co.uk) and using their search, you will be able to find an installer in your location.
Please call a Hetas engineer for installation advice.

Our surrounds can be used with any gas fire with an output of 4Kw or less. For greater output select the solid fuel upgrade
Gas fires must be fitted per distances from combustible materials, as specified in your instruction manual. Any HE or glass fronted fire must have the solid fuel upgrade. HE & glass fronted fires can only be used with Granite Hearth and Backs.
If you visit www.gassaferegister.co.uk, you will find a list of engineers in your location.
You must use a Gas Safe Engineer if you are having a gas fire fitted, they can generally fit your entire fire surround and will supply you with a safety certificate.
Please call a Gas Safe engineer for installation advice.

All our surrounds can be used with electric fires; you do not need a qualified electrician as they come fitted with standard plugs.
If you are fitting your fire surround against a wall without a hole, then you need to ensure that you have the correct surround rebate. If you have a chimney, this needs a cowel or to be sealed to stop the fire overheating and becoming noisy.
If you are moving a socket, then you need to use a qualified electrician. Once the work has been carried out, you will receive a Part P certificate from the electrician.
If you are looking for a qualified electrician, then a good website to visit is www.electricalsafetyfirst.org.uk.
Call us if you require help with rebates.